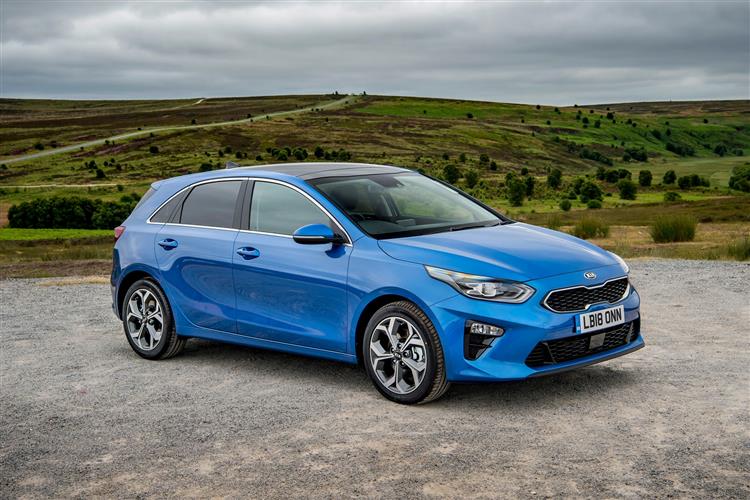 Looking for Kia Ceed lease deals? We have a number of great contracts under £200 per month. Take a look at our best offers below for the hatchback and SportsWagon. It's free to enquire and we'll find you the most cost effective monthly price. We offer free UK delivery on every Kia Ceed.
Top Deal
1.0T GDi ISG 2 5dr [Eco Pack]
View Deal
South Korean car-maker, Kia, has a lot of faith in itself – and rightly so if its latest products are anything to go by.
The recently launched Stinger has taken on top German players with real credibility, and now the freshest model out of its stable, the all-new Ceed, is here. Three generations on, the family-focused hatchback has, in terms of cabin quality, reached the exalted territory occupied by Volkswagen's Golf. In most ways, the Ceed, finally without the daft apostrophe in its moniker, is also good enough to go toe to toe with the likes of the up-to-the-minute Ford Focus and the Mercedes-Benz A-Class.
Looks-wise, it is broader, and more hunkered down than the departing model, and there is a sexy Stinger edginess to it as well. The Ceed's sleek lights and wider grille also help to give the car a poised appearance.
This new Kia is the same length as before, so there is still decent space for four-up – five at a push. In fact, the hatchback officially has the best-in-class-rear-shoulder-room, too. In addition, the rear overhang has expanded, meaning that the renewed Ceed has a bigger boot. It now has a cargo capacity of 395-litres, which is better than the Golf's 380-litre offering. Funnily enough, the withdrawing Ceed had this same VW load space figure. The cabin has also been given a thorough restyling so that it fits in suitably with the rest of the East Asian marque's line-up.
As mentioned, the interior quality of the brand-new Ceed is undoubtedly on an equal footing with the VW Golf. The switchgear feels well-made, and soft-to-the-touch surfaces cover the doors and dashboard. There is also a bright and easy-to-use touchscreen fitted to the top of the dash.
I was handed the keys to the 1.4-litre T-GDi Ceed in '3'spec. Kia reckons this petrol propelled variant will be the most popular-selling model in Britain. And I can see why. It is punchy, effortless to drive and very hushed too. My car came with the seven-speed automatic transmission, which works well, but there's also a very slick manual gearbox. If you don't mind a bit of left foot and hand work, then the standard 'box will save you around £800. But perhaps most importantly, the latest Ceed in this guise is efficient, returning 50mpg on an average run.
The only fly in Kia's ointment when it comes to the up-to-date Ceed is a slight lack of ride comfort. It is not a massive problem by any stretch of the imagination, but the company's contemporary K2 platform does make things very firm. Sure, it gives the car a sporty ride, especially on 17-inch alloys, and the hatchback stays very level in corners, but it never feels truly relaxed, even at cruising speed.
There are no complaints from me about the Kia Ceed's steering though – it is pin-sharp and weights up well. Indeed, it inspires driving confidence, and you feel 'at home' very quickly behind the wheel. I would go as far to say that the car is dynamically rehabilitated compared with its forerunner.
This, as well as excellent space and a well-screwed-together cabin, is what you need from a family car. It is reasonably priced too – with this model, coated in a standard paint job and fitted with an auto 'box, costing £22,605 on the road.